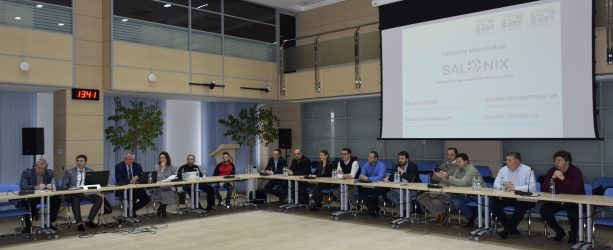 Representatives of companies Salonix and Apa-Canal Chişinău met today a delegation of Schneider Electric representatives from several countries on 27.02.2019.
Attending the meeting was the project "Installing SCADA Monitoring, Control and Data Acquisition System within S.A. "Apa-Canal Chisinau" made by Salonix for Apa-Canal on Schneider Electric equipment. At the meeting, Mr. Valeriu Butanu , Salonix founder, presented the Salonix experience in projects made on Schneider Electric equipment. Mr. Artiom Moldovan, director of Salonix Engineering, presented the project.
We inform you that "Installing the SCADA Data Monitoring, Control and Data Acquisition System" provides for the upgrading and renewal of equipment from pumping stations in the water and sewerage network, the storage of data and the implementation of a single data processing tool that provides monitoring and control of technological processes within Chisinau Water-Canal. Thus, the pumping and water treatment stations will be upgraded, so the water flows in the network will be monitored. This project is part of the Priority Investment Program, financed from the sources of the European Investment Bank, the European Bank for Reconstruction and Development and the European Neighborhood Investment Fund.